15 best video hosting websites and tools (2023)
Por Sophia Silva
26/04/2023 às 17:37 atualizado em (26/04/2023 às 17:37)
15min de leitura
For those who produce audiovisual content, as well as the best live streaming apps, choosing good tools for video hosting is fundamental. With them, content creators and companies can share their productions with maximum quality.
Among the various options available, both free and paid, platforms such as Panda Video, Wistia, Vidalytics, and Sendspark stand out. Additionally, older platforms like Vimeo are also excellent options for hosting videos.
If you are looking for a professional solution to host your videos, check out our list of the best video hosting sites and tools now to find the best option for your needs.
What is the best video hosting tool?
We here on the blog have already tested several of these video hosting platforms and the top 4 that we recommend are these:
If you want a deeper analysis of each of these platforms, continue reading our article.
Currently, there is no shortage of options when choosing the best video hosting tool. You can find everything from free platforms to more professional solutions for e-learning, capable of hosting long or high-resolution videos, such as HD and 4K formats.
Some platforms bring interesting differentials, such as Panda Video, which uses technology that easily identifies the student in online video courses, in addition to applying a watermark at all times during video playback. Wistia, on the other hand, brings an entire digital marketing solution, such as incorporating lead capture forms and other CTAs directly into the video player itself.
However, it is important to bear in mind that if you want to, for example, do live streaming, it is important to have good equipment. So, also explore the best webcams for live streaming.
Check out our list of the best video hosting sites and tools now.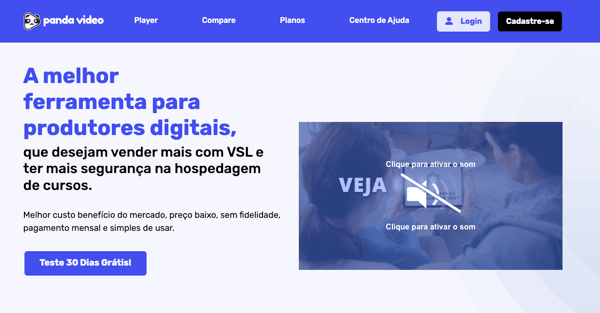 Starting our selection of sites and tools for video hosting, we have Panda Video, which is a video hosting platform developed to meet the needs of content creators and companies looking for fast service with advanced features.
Panda Video is widely used by educational institutions and course producers for hosting and sharing classes.
This platform stands out, especially for its focus on protecting content. Panda Video uses DRM technology that easily identifies the student, with the data appearing in a watermark at all times during a class.
Panda Video has 12 tools that enhance user interaction, providing a unique experience when watching videos. Thanks to these innovations, the Call to Action (CTA) buttons in videos become much more effective, allowing for better conversion and audience engagement.
The videos are also of high quality and can be watched in high definition by students.
Another positive point of Panda Video is the support: We use it here in our online courses and whenever we had a problem they were very attentive.
Advantages of Panda Video
Simple and effective control panel

Low cost

Good image quality

Works for both classes and VSLS

Amazing support
Disadvantages of Panda Video
New platform

Uploading videos takes a little time
How much does Panda Video cost?
Panda Video starts at $ 14.90 per month and in this plan, you are entitled to 200 GB of storage and 300 GB of bandwidth. However, you can try it for free for 30 days without any commitment.
Payment can be made by credit card.
Wistia is a video hosting platform aimed primarily at businesses and marketers. This solution lets you easily create, manage, and share videos. It also offers tools for generating leads and measuring video content performance, all integrated into a single platform.
With Wistia, users have the ability to create various videos, such as tutorials, classes, and webinars, in addition to editing and assembling clips even after the material is finalized. The tool uses adaptive streaming technology, so even a 4G phone user can view your content without any interruptions.
Going further, the platform is known for its speed, making it possible to load videos very quickly thanks to the use of several content delivery networks (CDNs). When a viewer plays a video hosted on Wistia, the content is delivered from the server closest to the user physically, ensuring a fast video launch.
How much does Wistia cost?
Wistia has a free plan to host videos for free, the maximum duration of these videos is 5 minutes and it does not let users to remove the watermark.
In the free plan, you can have up to 1 user and have a maximum bandwidth of 200GB.
The paid plan starts at $19 per month, has 1TB of bandwidth, and can include up to 3 users.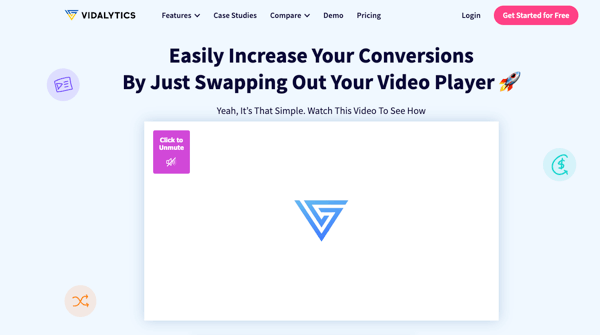 Vidalytics is a video hosting company focused on data analysis and is widely used in the marketing and advertising segment. The platform offers a detailed analysis of video performance, thus helping to improve marketing campaigns.
By analyzing points such as retention time, peak user interest, and content rejection, it is possible to have a complete diagnosis of each video. The platform also provides heatmaps that help content creators by showing where viewers are paying the most attention during video playback.
One of the differentials of Vidalytics is the autoplay function, which helps keep the user on the page longer, thus increasing engagement. The platform is one of the most popular in the segment, being ideal for creating sales letters (VSLs), online courses, and sales funnels.
How much does Vidalytics cost?
Vidalytics has a free plan that starts with hosting a maximum of 3 videos and has 50GB of bandwidth per month.
The paid plan starts at $79 per month and entitles you to 200GB of bandwidth.

Next up in our list of video hosting tools, we present Sendspark, a video platform dedicated to companies that want to establish a closer relationship with their customers through personalized videos. The tool makes it possible to create sales videos with different introductions for each customer, generating the feeling that the video was produced exclusively for them.
Sendspark also makes it possible to automatically adjust the video for each viewer, thus being able to offer personalization and relevance on any video playback platform. Additionally, the Sendspark website easily integrates with various email marketing tools, helping to increase conversion rates from email communication with customers.
Although not well known in certain countries, the hosting platform has already won several international awards and is proud of its high ranking on Google, boasting 5 stars by user reviews.
How much does SendSpark cost?
The free plan allows you to have up to 30 videos for free and allows you to share the video wherever you want.
The paid plan starts at $12 per month for a single user and has an unlimited number of videos you can upload.
Dacast is a professional streaming video hosting platform with a wide range of features. The company offers an HTML5 video player compatible with any browser or device. Dacast also allows you to embed videos directly within a website.
One of the main differentials of Dacast is its complete video monetization solution. With it, you can configure different pay-per-view streaming prices on your content. In addition, it is possible to manage subscriptions, charging viewers a fee for unlimited access to your video content, increasing the profitability of your transmissions.
Another interesting feature in Dacast is the possibility to customize the video player with a company's logo, as well as its specific colors.
If video streaming is your business, also learn what Twitch is and how to use it for broadcasts.

JW Player is a video hosting platform aimed at TV broadcasters and video companies. With this powerful tool, you can stream live channels and events 24 hours a day, 7 days a week. Videos play without lag, buffering, or interruptions, providing a seamless viewing experience on any device.
This video hosting platform easily integrates with various advertising networks and allows the monetization of content through ads within videos. Like Dacast, in JW Player it is also possible to create a subscription system for your video content.
JW uses seamless transcoding and video management technology that can deliver content to all devices, anywhere with 99.99% uptime.
7. Brightcove

Brightcove is a video hosting platform that develops work focused on companies and presents itself as the most reliable in the segment. In fact, the company is a leader in the sector, having already received several awards, in addition to boasting giant brands in its client portfolio, such as the BBC, Adobe, and Premier League.
The platform enables the distribution and monetization of video content across live events and linear channels that operate 24/7. The company offers several solutions for live transmissions, meeting from small demands, for a few dozen viewers, to those events with millions of simultaneous viewers.
Brightcove lets you monetize live streams with SVOD, TVOD, AVOD models, or a combination thereof. In addition, Brightcove offers SSAI technology to avoid being captured by ad blockers.
Continuing with our compilation of video hosting sites and tools, we have SproutVideo, which is a platform that offers easy-to-use tools for secure video sharing. It provides several tools for marketing with videos, in addition to analyzing data and metrics, which allows you to better understand the behavior of viewers.
The platform can be used for various purposes, such as internal company communications, live broadcasts, or product launches.
SproutVideo is recognized for its focus on security and content control, offering password protection, login protection, and dynamic watermarks. Additionally, the platform helps prevent content theft by tagging the viewer's email, IP address, and session ID on your videos.
Vidyard is yet another option for video hosting, but more focused on companies that have video content as their main marketing strategy. The platform offers a reliable hosting service, as well as advanced tools for creating videos.
With this tool, it is possible, for example, to send emails with professional videos, improving communication between companies and customers, which results in an increase in the response rate and public engagement.
The platform is quite popular, being adopted by more than 250,000 companies and used by more than 12 million users worldwide.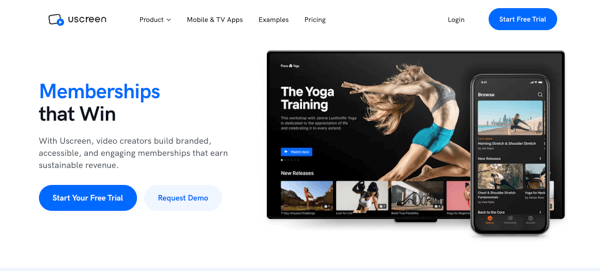 Uscreen is a complete video hosting platform aimed at content creators and streamers. It allows the production, hosting, and distribution of videos independently, providing greater freedom in managing and monetizing content.
The biggest strength this platform has is the possibility of creating a complete website for subscribing and consuming videos, in the same style as Netflix. The content is displayed on a stellar video library, providing an excellent user experience like on the most popular streaming platforms.
Uscreen is used by over 25,000 content creators to host their videos, including Mr. Beast, considered one of the largest in the world. In addition, Uscreen allows a greater connection with the online community, facilitating communication between participants.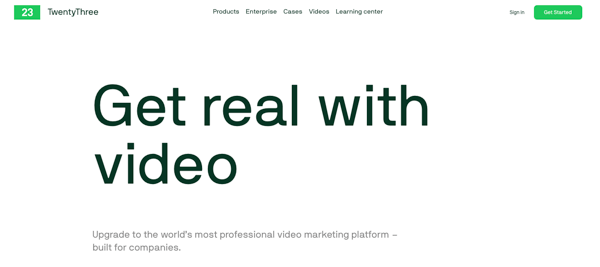 TwentyThree is one of the world's most popular video marketing platforms, offering a wealth of tools to create, manage and share videos and webinars.
One of the highlights of this platform is the TwentyThree Webinars tool, used to generate leads, engage audiences and educate customers using webinars. In addition, with TwentyThree it is possible to broadcast live to various social networks.
Integration capability is one of TwentyThree's strong suits, as it can be connected to various platforms and tools on the market, offering an expansion of content distribution.
Moving forward with our list of video hosting tools, we present Cincopa, a platform for creating different types of media, such as videos, slideshows, music, and podcasts. With this service, it is possible to create, host, and share the most varied content.
Cincopa stands out for being a complete multimedia platform, with integration with several well-known platforms, such as WordPress, Joomla, Blogger, and many others. The company also allows you to add content created on websites and blogs.
The platform also offers several customization tools, allowing you to modify the appearance of the media players to the styles of the website, blog, or application in which it will be incorporated.
Vimeo is one of the most well-known video hosting websites in the world, which competed with Youtube in the distant past. On Vimeo, you can create, host, and share videos, virtual events, and live streams with any number of viewers.
The video social network was created by filmmakers and is more focused on artistic, creative, and experimental content. Vimeo is also known for its image quality and was one of the first on the market to allow the hosting and playback of 4K videos.
Vimeo offers integration with several well-known platforms, such as WordPress, Shopify, GoDaddy, and TikTok, allowing you to easily embed videos on websites, online stores, and social networks.
A negative point of this video service is that there are apps to download videos from Vimeo, which does not make it the safest option for those who want to protect themselves from piracy.
Another negative point of Vimeo is that if you use it to host private videos of a course for example, Vimeo can block your account at any time as it goes against their guidelines.
Bitmovin is a video hosting company that promises the highest compatibility on the market with systems and devices. The platform uses an advanced video player, which stands out for its reproduction quality on different types of screens and for its modular architecture. This architecture has a low-latency Adaptive Bitrate (ABR) feature, which optimizes the user experience according to the quality of the connection.
One of Bitmovin's biggest strengths is Stream Lab, an innovative automated testing tool aimed at video streaming. Stream Lab uses real devices in its testing process, which allows you to guarantee playback quality.
In addition, the platform has the Bitmovin Analytics tool, which makes it possible to make improvements and corrections based on performance reports that can be shared with the work team.
Rounding off our selection of sites and video hosting tools is Bunny Stream, which is a solution developed by the company Bunny CDN, which has more than 30,000 customers around the world. Like its competitors, the platform offers transcoding, storage, and security, as well as a customizable video player.
One of the biggest selling points of Bunny Stream is its competitive price. The platform is, by far, the one that offers plans with the most affordable values ​​compared to the rest of the market.
One advantage of Bunny Stream that deserves our attention is the possibility of testing the platform for free for 14 days, without the need to provide credit card details in advance.
Some common questions about video hosting:
What is video hosting?
Video hosting is a way of hosting your videos online, allowing other users to view your content without needing to have access to the original content.
It is widely used in courses, e-learning, or in a digital business that wants to have its classes distributed on any platform.
How to host videos online?
To host videos you need to follow some steps.
Select the video to host

Choose a video hosting platform

Upload the video file there

Embed or share the video link with whoever you want to watch
Where to host private videos?
Panda is a Brazilian hosting platform that allows you to host private videos and that already has thousands of users worldwide.
Once your video is hosted, all you have to do is insert it on the platforms you want and share it with your students.
Why should I use a hosting platform and not use YouTube or Google Drive for example?
YouTube is a site for creating free content and it's ok to use this platform if you want to promote your content to sell your courses, for example.
However, YouTube is a place where there is not much copyright protection and also nowadays there are several websites to download videos from Youtube which means that its content can be easily copied.
In addition, social networks like Youtube do not give a very professional image to your course or online content and even show ads to your students, which can end up showing your course competition.
What is the best hosting platform for online courses?
The best platform for hosting online course videos is Panda Video. With it, you can easily host all the videos in your course and with plans that start at $ 14.90 per month.
What is the best Vimeo alternative?
The best Vimeo alternative is Panda Video or Wistia. Both video hosting services have an easy-to-use interface and competitive cost for hosting your video files.
Did you like any of these video hosting tools?
With the video hosting sites and tools we've featured in this article, you now have some great suggestions to explore and choose the one that best suits your needs.
To build your content you will need to choose one of the best apps to record videos or find out what it is, how much it costs, and how to make a video in CapCut.
An important point before deciding on a platform is to check the platform's compatibility with the tools you already use to create content. In addition, it is always good to consult consumer complaints sites. In them, you can find information about customer experiences with the services offered by these platforms.
Having chosen the perfect video hosting platform for you, now it's time to get down to business and start creating your video content!
And if you already create content on Youtube, find out how to increase your video views.