15 best OBS alternatives for live streaming in 2023
Por Sophia Silva
09/05/2023 às 9:53 atualizado em (09/05/2023 às 9:53)
13min de leitura
When choosing apps to do live streams, using video streaming services like OBS is a common practice among many content creators. After all, this software is one of the easiest to use, as well as being quite reliable. However, there are also OBS alternatives for live streaming.
Among the OBS alternatives, we can highlight the 4 best around:
Now that you are aware of the importance of knowing other possibilities of tools for hosting videos and for making your live broadcasts, in this article, you will know the 15 best OBS alternatives for live streaming.
The best alternative to OBS Studio for live streaming
Although OBS is one of the most used real-time video recording and streaming software on the market, there are many interesting alternatives that are as good or even better than OBS.
Performing live broadcasts can be difficult for some people, but did you know that they are very important to achieve greater engagement with your audience? Through streaming, your followers can ask questions and send comments, making the experience they have with you much more personal.
Many content creators are concerned about having laptops, chairs, and mice for gamers, but forget to invest in a good tool to do live broadcasts. For this reason, we have created this selection of the 15 best options for live streaming.
Restream is a streaming platform that manages to promote your live streams and stream content flawlessly. The platform stores your videos in the cloud so that your work is more practical, allowing you to schedule content to be released later.
Another highlight of Restream is that it lets you use external software, such as Zoom and OBS Studio so that you can perform your streams. In addition, it has an integrated chat for a better connection with your audience, where you can chat with them during your broadcasts.
With Restream, you can also analyze your performance to better understand whether or not your followers are enjoying your content and which social networks you have the most audience on during your broadcasts. For this reason, it becomes an excellent option for anyone working with YouTube gaming.
The platform has a free version and two paid plans.
Get to know Restream now and get 10% off!
Be.Live is a streaming platform that can be used directly from your browser on various social networks. It allows you to schedule live broadcasts and download high-definition audio and videos. Another outstanding feature of the software is that it allows you to customize live content, where you can take your brand to the broadcast.
To make your stream even more interactive, the platform has the artificial intelligence "AI Comment Assistant" that automatically presents comments on the screen. With it, in addition to being able to choose the best comments, you can also highlight the most active participants in your broadcast.
Be.Live also helps with your post-stream reach, as you can use the platform's editor to edit and cut important parts of your broadcast to use on your social networks. The company authorizes the use of the platform for free for 14 days and then you can opt for one of the paid plans.
With it, you'll also be able to take screenshots and record the screen for future broadcasts.
Visit the Be.Live website to start streaming today!
Continuing our list of the best OBS alternatives for live streaming, there is OneStream and it really couldn't be missing. After all, with this platform, you can broadcast live or schedule recorded videos on up to 40 social networks at the same time. Just use any of the best webcams for live streaming to create your OneStream content.
And if you have a website and want to do a professional live stream on it to attract more audience for your service or product, you should consider using OneStream. The platform has interactive landing page templates that are sure to amaze your audience.
Another of OneStream's strengths is that it allows your streams to have subtitles. That way, you can make much more inclusive content, even if it's live. You can try the platform for free, but it also has paid plans for its broadcasts.
Learn more about OneStream by visiting the official website!
StreamYard is one of the best-known software when it comes to performing lives and a great option among the alternatives to OBS Studio. Its main highlight is allowing your live broadcasts to be carried out on several social networks, such as YouTube, Facebook, and LinkedIn simultaneously.
The platform has a free and a paid version. If you want to use StreamYard without any investment, you can invite up to five people to share the screen with you, in addition to the software logo being present on your videos and having a limit of 20 hours of streams per month. On the other hand, if you decide to pay, you can invite up to nine people and put the logo you want on your stream.
And if you're wondering if you need to download StreamYard, the answer is no. The platform can be used from your browser and is very lightweight, making it easier to consume than OBS Studio, both for you and your guests. This factor also facilitates the use of the platform on your phone.
If you intend to use this program to teach e-learning classes, be aware that it also allows you to record your screen even if you are not transmitting, making it an excellent alternative to other class recording programs.
Other of its benefits it also works very well on mobile. Just enter the browser and make your transmission.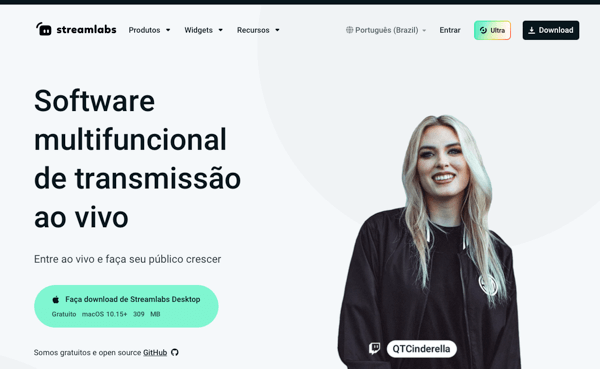 We can describe Streamlabs as an all-in-one live streaming software. The application can be downloaded for both Windows and Mac and even allows game content creators to broadcast live games anywhere, and it has versions for iOS and Android mobile devices.
In addition, the content creator's guests have the incredible experience of joining their live stream, whether on Twitch, YouTube, and/or Facebook, with just the link shared with them. In the free version of Streamlabs, you'll have access to hundreds of overlays for your broadcast, you'll be able to stream for up to 30 minutes at a time, but you'll still have the software logo appearing on your video.
In the paid version, in addition to being able to customize the logo, you will be able to broadcast for up to one hour and have full access to all products and features of the platform, such as in-depth analysis of your content on Streamlabs.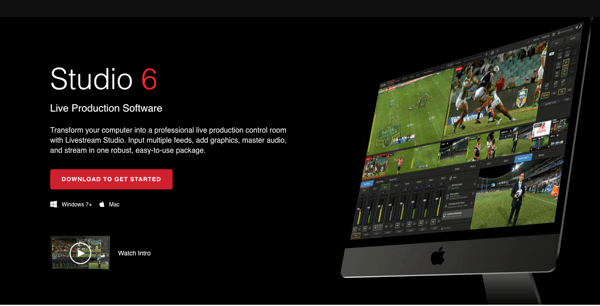 Livestream Studio is one of the OBS alternatives to make more versatile live streams. It lets you connect any type of wired camera, plus frame-accurate live compositing up to 4K to multiple destinations. With it, you even get screen capture features and Skype integration for remote interviews.
The platform also offers the possibility to add layers of text and images to your live stream. With it, you can distort, crop, and edit layers, adjust the color and add borders and shadows. As a result, you'll be able to do a professional live stream even if you're a beginner in this field.
Of course, we cannot fail to mention that Livestream Studio is very lightweight. In that sense, you can use it on a simple laptop as it requires little processing power, which means you don't need a dedicated graphics card. To use the platform, you need to invest in a paid plan.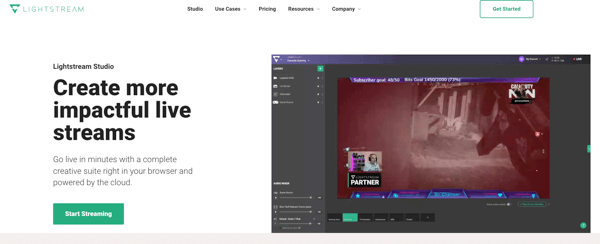 If you like to broadcast live content related to games, Lightstream can be a very interesting option. After all, with it, you can customize streams of games from Xbox, PlayStation, and mobile devices to Twitch without the need for many resources.
Speaking of operating systems, Lightstream is compatible with everyone capable of running Chrome version 57 or higher. The sites compatible with the platform for live broadcasts are Twitch, Facebook Live, and YouTube.

In our selection of the best OBS alternatives for live streaming, Wirecast could not be missing, as it is one of the most professional platforms in this area. It manages to offer several features for live broadcasts, ranging from graphics adjustments to exclusive replay features.
In addition, you can adjust brightness, contrast, and saturation for all your videos and graphics using Wirecast. And if you like to bring 3D animations to your live streams to make them more dynamic, with Wirecast it's possible through Titler Live Express.
The software isn't free, but it may appeal to creators looking for a live stream creation platform that only charges once for a lifetime license.
Before you start doing streaming you will need a good headset. To help you with this choice, we present a selection of the 12 best headphones for streamers.

CameraFi Live makes it to our list of best alternatives to OBS because we couldn't leave out content creators who don't own a computer. If you have an Android phone and want to make broadcasts that involve your audience, you can do it through this application which will give you an even better experience than with OBS itself.
By using CameraFi Live, you can make live content on YouTube, Facebook, and Twitch with no time limit. And anyone who thinks you can't do a professional live stream with just this app is wrong. That's because, during the live stream, you can add various overlays such as images, texts, filters, videos, and audio.
CameraFi Live has a complete platform where you don't need software or hardware for your live broadcast of the game because you can do everything within the app itself. If you want to get to know the platform, you have access to a seven day free trial and, if you like it, you can choose one of the two paid plans.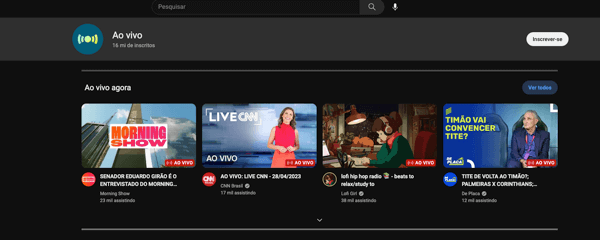 Although it is only focused on live streaming for the biggest video-sharing platform, YouTube Live could not be missing from our list of the 15 best alternatives to OBS. After all, it has several features for customizing this content.
By using YouTube Live, you can add titles, descriptions, and hashtags to your streams. Another outstanding feature is the monetization tool, where your viewers can gift you with cash values ​​while you are broadcasting.
Another way to monetize YouTube Live is by using the traditional platform's ad creation feature. You can also see your video's performance and understand what needs to be improved to attract a larger audience. All YouTube Live features are free.
Ecamm Live is an amazing live streaming platform that's compatible with several social networks, such as Facebook, Instagram, Twitter, and even Amazon Live. In addition, it supports multiple cameras and screen sharing so that your live streams are more dynamic and draw more attention from your audience.
Focused on Apple device users, with Ecamm Live, you can connect an iPhone or iPad to share your screen and even use it as a camera. The effects are also worth mentioning in the platform's review, as you can not only add a green screen but videos as well.
Ecamm Live allows you to use the platform for free for 14 days, taking advantage of all the features offered. Then, if you decide it's right for you, you can opt for paid plans focused on professionals.
Loola TV is a platform for live video transmission that seeks to bring a professional experience but at the same time one that's easy for the content creator to experience. In that sense, you don't need to download anything to start your streaming journey. All it takes is a simple login to Loola TV.
If you care about your audience's experience and want them to have the best possible experience, Loola TV can help with that goal, offering real-time video editing tools and even support for remote guest onboarding.
In addition to being able to do performance analysis of your live videos, you can add your branding and effects to your streams. Like Restream, the platform allows its users to use external streaming software. Loola TV has a free plan and two paid plans.
Are you new to the world of live streaming? Then check out these tips for beginners on how to do successful live streams.
Continuing with our selection of the 15 best OBS alternatives for live streaming, we present Vimeo Live, where you can broadcast live without ads and directly from your computer on various social networks. It also has an analysis tool to let you know how your content is doing.
To further improve the quality of your live streamed video and help you engage and connect more with your audience so they stay with your stream until the end, Vimeo offers features so you can embed graphics and animations in your streams.
An important mention is that Vimeo Live delivers high-definition videos, something very important for people to feel comfortable watching live streaming. For example, the platform has support for transmissions in 1080p and 4K. In addition to having a free plan, the company has options for paid plans.
Dacast is a video streaming platform with a wide range of features. The company offers an HTML5 video player compatible with any browser or device. Dacast also offers a tool that allows you to embed videos directly within a website.
With Dacast you can set different pay-per-view streaming prices for your content. In addition, it is possible to manage the subscriptions of followers who have decided to subscribe to your content, charging a fee for unlimited access to your video content.
Another interesting feature of Dacast is the possibility to customize the video player with a company's logo, using its specific colors.
Uscreen is also a video streaming platform aimed at content creators and streamers. It allows the production, hosting, and distribution of videos independently, providing greater freedom in managing and monetizing content.
The biggest strength of this platform is the possibility of creating a complete website for subscribing and consuming videos, in the same style as Netflix. The content is displayed in a library providing a great user experience like most popular streaming platforms.
In addition, Uscreen allows a greater connection with the online community, facilitating communication between participants.
Which program replaces OBS?
As you saw above, there are several options to choose from when replacing the OBS. We here at AppTuts have tested and recommend these:
Using any of these four platforms you will have tools with advanced features that are easy to use, even by novice content creators. See which one best suits your niche and the expectations you have regarding your live streams, and get to work.